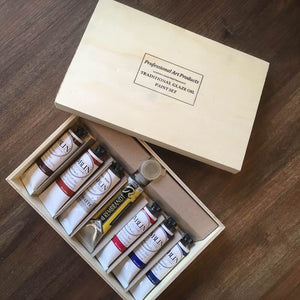 Professional Art Products
Professional Art Traditional Glaze Oil Paints - Essential Set
Regular price
$130.00
$0.00
Unit price
per
 This set of paints was developed over decades of research and practical experience! The set includes: Gamblin FastMatte Titanium White 37 ml, Rembrandt Transparent Yellow Medium 37 ml (primary), Gamblin Artist Grade: Quinacridone Red 37 ml (primary), Ultramarine Blue  37 ml (primary with a tiny hint of red), Phthalo Blue 37 ml (primary with a tiny hint of yellow) and Transparent Earth Red  37ml (an orange-brown) Burnt Umber 37 ml (a dark brown) and a sample size of Gamblin Solvent Free Fluid.The optimal performance foundation paints that dry quickly and with great strength and tooth are the super highly pigmented Gamblin FastMatte Alkyd Titanium White, and Gamblin's archivally sound Artist Grade Burnt Umber. These are the two best products for the Grisaille foundation stage of traditional painting practices.
 The perfect selection of primary transparent glazing paints combine and toggle back and forth seamlessly with the powerfully opaque, super bright titanium white, enabling fantastic illusion of depth because of the complete control of transparency and opacity this selection creates. The glazing brown, Transparent Earth Red combines with your primaries to create any shade imaginable, including any variation of black. Add white to these shades and all tones are also possible. There is nothing you cannot achieve in colour from this powerhouse of excellent products. And – these contemporary archivally perfect products are light-fast, strong, flexible, VOC free and non-toxic. They are perfect and complete; you really will never have or want to buy another colour.
This set comes with a free compact Essentials Lidded Wooden Paint Box, to nicely keep you paints organized in permanently.