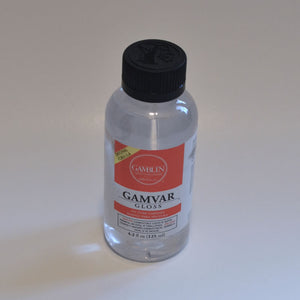 Gamblin
Gamblin Gamvar Conservation Varnish for Oil Paintings
Regular price
$18.00
$0.00
Unit price
per
This is the top performing, latest technology removable varnish for oil paintings - highly recommended by art conservators. Buy gloss for traditional glaze oil paintings to maximize your luminosity, or use a mixture of matte and gloss, or use matte on its own if you want the varnish to be completely undetectable. Any way you use it, this varnish is a very important step to preserve your paintings for the long haul. 

The purpose of a varnish is to take the environmental wear and tear on behalf of the work of art below it. Indoor pollutants will erode this coating over long periods of time and not your paint surface. Eventually, when the dirt and pollution damage the varnish, an art conservator can instantly take what remains of it off with mineral spirits, revealing your work, perfectly preserved, exactly as you painted it. They can then recoat it with picture varnish for another echalon of time.

Vanish your work after 3 - 6 months of drying. Before varnishing, double check your dryness. Do this by rubbing some inconspicuous spots with a cloth with mineral spirits on it. If any colour comes off, it is not fully dry, and need more time.
Note: NEVER use retouch varnish - it ruins the adhesion of your paint surface and prevents effective use of removable surface application of Gamvar or any other picture varnish.