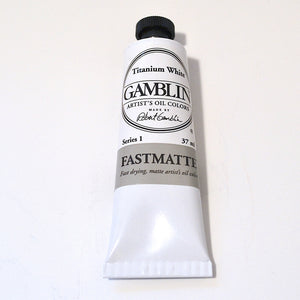 Gamblin
Gamblin FastMatte Alkyd Artist Grade Oils - Titanium White
Regular price
$12.00
$0.00
Unit price
per
I cannot say enough about this little tube of paint! It is the most essential tube I can recommend for every paintbox, for so many reasons! Gamblin FastMatte Titanium White is the best white made, for every application of oil painting practice. 
This powerhouse of quality is a testament of the hard work that Gamblin has done to improve the technology of oil paint for decades.
It dries to a surface that is tough as nails, yet not brittle like any white that contains Zinc.
The toughness combined with fast drying and superb tooth, create a perfect foundation paint for traditional glaze oil methods creating excellent bond between substrate and the upcoming layers. MITRA, the art conservator's board at the University of Delaware, recommends this lead-free paint as an excellent paint for all oil paint foundation applications.
Compared to regular, non-alkyd (artist's grade colors) whites, its speed of drying is much more in pace with the rest of your oil palette. This for all applications- and especially for thick applications - makes it a much better choice when using a non-alkyd, regular palette. The closer the drying times of your various paints, the more stability your paint surface will have as it dries. This minimizes the risk of eventual art conservation issues like cracking, spalling, and inadvertently painting over uncured paint.
Because Gamblin FastMatte Titanium White is designed for foundations specifically, it is the highest pigmentation possible. This makes it the most brilliant of any white. It also makes it the most versatile paint, because although you can't really make a paint more pigmented, an artist can easily make one less pigmented, by simply mixing in some more binder (medium); this paint very quickly can be made to be as buttery as you like, by simply adding a small quantity of medium. It is therefore not only perfectly "lean" for foundations, but it can also be adjusted to be "fatter", as your painting progresses. 
If less opacity is what you require, it can be diluted with a gel medium, like Gamblin Solvent Free Gel, which will decrease the opacity of the paint.
I would implore all oil painters, of any kind of practice to switch from whatever whites you are using, over to this white as the only one you use. It is simply . . . BRILLIANT, for every application.
Gamblin FastMatte Alkyd Artist Grade Oils - Titanium White
Good product!
An opaque white which covers well and mixes beautifully with other colours. Love the creaminess when kneaded with a knife. Dries quickly too.
The best shop to get this paint from!
I've spent a long time searching for the Fastmatte titanium white, as it is essential for an art course that I'm doing.
I would order it from Kathy's store any time again! The paint is smooth as it should be. If you order it on Amazon you might get a tube where the paint doesn't come out easily (I've read a review from someone who has bought it on Amazon).
But here you can trust that you will get high quality paint for a very good price and the communication with the shop owner was very nice as well.
Thank you, Kathy!
Paints
I have just started using Gambling Fast Matte white and I have not been disappointed. High quality , lovely to work with
An excellent product!
Worked with a palette knife, it becomes creamy smooth so it goes on canvas well. Very matte so it covers completely and dries quickly.