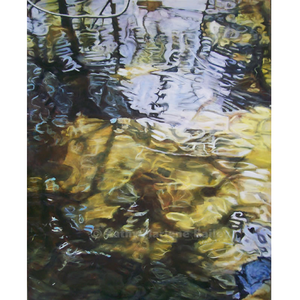 Kathy Marlene Bailey
"Under a Willow Tree", Gull River Series
Regular price
$7,775.00
$0.00
Unit price
per
Artist: Kathy Marlene Bailey, CGOS, OSA
Medium: Glaze Oil on Canvas on Cradled Birch Panel
Size: 48" x60"
Artist Statement:
Can you catch the minute details when you glance into a river, say, under a willow tree? To your conscious mind, maybe some. To your unconscious mind – maybe all are perceived, but if they are, we can never know it.
I spent considerable effort as a child trying to "catch" with my eyes the shapes within and on top of water. Water has always fascinated as well as mesmerized me. I was always only almost able to see the shapes as they perpetually morphed just a little bit quicker than I could perceive them properly.
As an artist, I have spent considerable effort trying to "catch" what I can almost perceive about water. With the methodical, endlessly refining approaches of Renaissance glaze oil techniques that I utilize, combined with a camera that will finally hold those shapes still for me, I am able to be much more successful than I was as a child to "catch" them. But, if anyone stands still and "opens" themselves entirely to the marvel of nature in front of them - as I did – that person DOES succeed, on the most important level.
Maybe perception is on two levels. You know everything, but you know hardly a thing – all at the same time. Maybe that paradox is what creates our sensation of wonder. There is an energy – a striving between our all-knowing spirit and our ever-seeking conscious mind. Maybe our unconscious understanding is as fluid, mysterious and elusive as water itself.