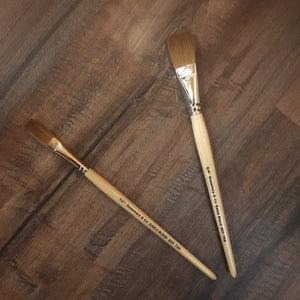 Rosemary & Co
Rosemary & Co Brushes - Series 769 One Stroke Red Sable Blend Short Flat
Regular price
$32.00
$0.00
Unit price
per
Here's that opportunity to buy the world's most loved brushes - Rosemary & Co makes fantastic brushes! Your best artwork is made with the best tools!
This strong watercolour brush is perfect for broad strokes and filling.
 These are very strong brushes, with all the attributes of sable mixed with the durability and strength of carefully chosen synthetic fibres - specifically designed by Rosemary to be the best of both worlds.  These brushes will make the lovely angles and washes of a squared flat brush.