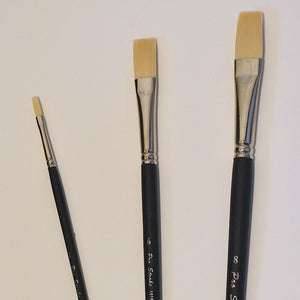 Creative Mark
Creative Mark Powercryl Series Synthetic Hog Flats -
Regular price
$15.50
$0.00
Unit price
per
Of each type of Powercryl, the flat is the detail workhorse. Because of its longer filament, it is nimble, despite its straight configuration. It is a "pull brush", ideally suited for details - holding a fair bit of paint.  Two number sixes or eights are perfect.They perform straight lines exceedingly well and sprinkle long stretches of hazing through a glaze.
Love Powercryl!
These brushes take a lickin'; they stay strong and flexible. I use them all the time.
Treasure Trove for artists
Nothing but the best art supplies!