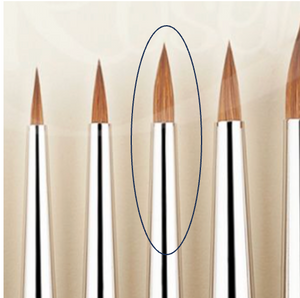 Rosemary & Co Brushes
Rosemary & Co Brushes - Series 93 Red Sable Spotter # 2, Long Handled
Regular price
$11.50
$0.00
Unit price
per
Here is my new favourite brush!  This amazing brush is absolutely ideal for oils. It is also perfectly wonderful for acrylics, gouache or watercolour. 
This long handled version won't get lost amongst your assortment of long handled oil or acrylic brushes. I also carry the short handled version to fit in with your other watercolour and gouache brushes. For any medium, this pure red sable spotter is a perfect brush. Pick your handle length, and you have a superb  performance, either way.
A spotter is shorter than a pointed round brush, and thus is considerably stronger, with ability for a very broad range of extremely controlled detail.  This brush is brilliant for fine detail in oil, because it is strong enough. It produces  perfect, smooth edged spots, reduces to a pin point, and will render the smallest to a mid-sized line or an organic line with various undulating widths. It drops a more loaded line than a pointed filbert or round. The natural characteristic of the red sable hair in this brush offers a a good "belly", allowing greater paint retention than other fibres.