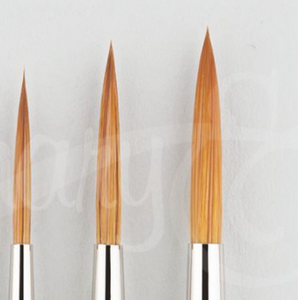 Rosemary & Co Brushes
Rosemary & Co Brushes - Series 771 Sable Blend Rigger
Regular price
$11.00
$0.00
Unit price
per
Here's that opportunity to buy the world's most loved brushes - Rosemary & Co makes fantastic brushes! Your best artwork is made with the best tools!
A mixture of sable and synthetic mixed together to perhaps offer the best of both worlds. Sable holds the liquid/pigment and the synthetic offers the spring and durability, whilst maintaining a favourable price. A good all rounder for Watercolours, Oils and Acrylics. 
The rigger shape is similar to a round but with much longer hair, also referred to as a "script" or a "liner" brush.
The Series 771's are a hidden gem and very popular amongst oils, watercolour, gouache and acrylic artists!
A favourite for all mediums as a general purpose good all-rounder brush.