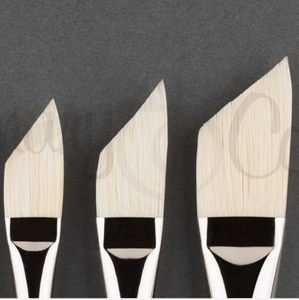 Rosemary & Co
Rosemary & Co Brushes - The Tische Dagger Bristle Series
Regular price
$24.00
$0.00
Unit price
per
Here's that opportunity to buy the world's most loved brushes - Rosemary & Co makes fantastic brushes! Your best artwork is made with the best tools!
If you paint oils or acrylics in a "painterly" way, this brush will assist you with the looseness you are trying to achieve. This brush is wonderfully imprecise. The shape allows for all kinds of variations on mark-making. The hog bristle construction creates good strength - strong enough to capably push around thick paint. 
This brush was invented by collaboration of Rosemary with the renowned painter, Andrew Tischler, of Australia.