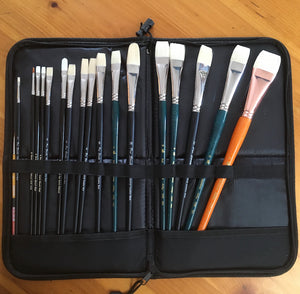 Professional Art Products
Professional Art Deluxe Oil Brush Set
Regular price
$261.00
Sale price
$279.00
Unit price
per
You paint all sizes of works - small, medium and large. This beautiful brush set has been carefully curated to have ample brushes and everything you will ever need for nuanced, perfect painting practices. It is perfect for traditional glaze oil painting, or for thick or for thin impasto. Starting with the incredibly crafted Princeton Refine Series#16 hog bristle bright, it is a power-horse of strength for effortless broad and even application of large or small quantities of paint. Medium size hogs are Princeton Ashley Series to take these tasks on for smaller size areas.They are absolutely perfect, beautiful glazing brushes.  For refinement, this set includes the most complete array of amazing white synthetic hog bristle brushes. These are incredibly well crafted, super-durable Rosemary Ivory and Creative Mark Powercryl brushes. If you have never tried a synthetic hog brush, you can look forward to the shocking delight. They are almost as strong as a hog but are as sharp as a razor. The workhorse of this group is also a bright. For organic line, nothing beats these filberts. For long flat strokes and long sharp lines, nothing beats a flat. After all that, if you need to dot an i, we have a brush for that too. This brush set will serve any oil painter brilliantly.
A perfect set of brushes for glaze oil painting.
I purchased these brushes over a year ago and use them constantly. A very good investment.
I am really enjoying my brushes and the case that came with the set is so useful. Thanks
Love my brushes!
Kathy was so knowledgeable about oils. My new go-to destination for art supplies. I'm thrilled with my new brushes and excited to get started on my next painting!