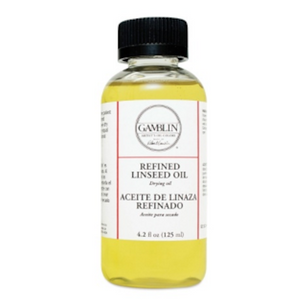 Gamblin
Gamblin Refined Linseed Oil
Regular price
$18.00
$0.00
Unit price
per
Here is the old stand-by, that has been used for centuries by oil painters. It has perfect viscosity for lowering the pigmentation of paint, and increasing the flow. It creates a strong film, yellows very little and is non-toxic. It takes a medium amount of time to dry – at least three days for thin applications of faster drying pigments, and potentially longer (there would be various times to dry, depending on individual drying speed of various pigments, and the thickness of applications). If your process would be helped by a slowish drying time, it is an excellent medium. 
 For my practice, Gamblin Solvent-Free Fluid has a better drying time – usually within 24 hours. But for every process, there is an ideal drying time. Gamblin Refined Linseed Oil is an excellent medium for those needing a bit more time with their work before it dries.
Refined Linseed Oil (or other oil mediums) also are excellent products to use to clean out your brushes between colours instead of turps or mineral spirits. Just dip, scrub around and wipe off with a Kleenex before painting with a new colour.