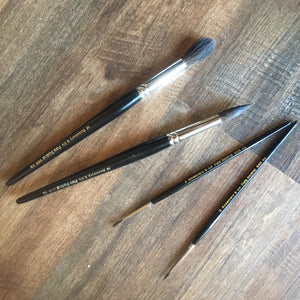 Rosemary & Co
Rosemary & Co Brushes - Series 42 Pure Squirrel Pointed Round
Regular price
$17.50
$0.00
Unit price
per
Here's that opportunity to buy the world's most loved brushes - Rosemary & Co makes fantastic brushes! Your best artwork is made with the best tools!
Pure Squirrel hair points as well as Kolinsky and Red sable, but has very little 'snap' because the hair isn't very resilient. We use a mix of Canadian and Russian Squirrel hair. As with all of our brushes, this range is handmade to the highest quality and provides the Watercolourist with a hair that carries and distributes water well.
The Series 42 off a beautiful tapered point for Watercolours, glass and silk. The larger sizes make an ideal wash brush yet still gold an excellent point.