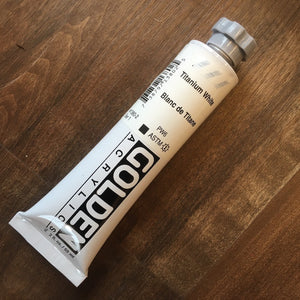 Golden Artist Colors
Golden Heavy Body Artist Grade Acrylics - Titanium White
Regular price
$12.50
$0.00
Unit price
per
If you paint with acrylics, you can trust Golden, the industry leader acrylic paint technology. The paints I have chosen feature top permanent durability, lightfastness and are non-toxic. Golden heavy body acrylics have good slip for workability This artist grade "Titanium White" is an ideal white, brilliant in its whiteness, highly pigmented and powerfully opaque. It makes a slippery wet priming and holds its mark-making when you want it to.  Colours mixed with white become soft. If this is not the desired effect, you can glaze the colour when it is dry with a transparent colour, to make the same area backlit, brilliant and luscious.
Bought Golden Acrylic from Professional Art Products
Golden is my favourite Acrylic, good pigment load, great coverage. Exceptional shopping experience, Kathy the owner is also a helpful, knowledgeable professional artist. The little shop itself is located in a charming story book setting overlooking the ocean in Prince Edward Island!