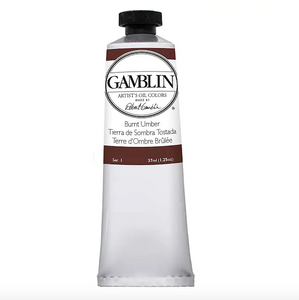 Gamblin
Gamblin Artist Grade Oils - Burnt Umber
Regular price
$12.00
$0.00
Unit price
per
Burnt Umber is a dark brown, with a stronger blue component, making it cooler.
If you paint using traditional glaze oil methods, Burnt Umber is your best choice for brown in your foundation layers.  But also include Transparent Earth Red in your paintbox for all your brown glazing applications. It is a better choice for glazing with than Burnt Umber.
Burnt Umber is an age-old classic standard for all paintboxes. This pigment is a natural rapid dryer - drying as fast and as hard as any oil alkyd paint. For this reason, it has been the go-to paint for grisaille under-paintings since the Early Renaissance.  It came to light through art conservation science recently that this basic, beautifully workable, classic pigment has had some issues over the centuries with showing up (percolating) through subsequent layers.  This is partially due to the tendency of the historic whites becoming translucent over time, allowing a window down through the paint surface, and partially due to the large size of the pigment particles. I am pleased to say that Gamblin, in its usual pro-active approach, has developed a burnt umber with a smaller particle size, that definitely will not travel upward through the paint layers, but stay where it is laid. For your foundation layers and subsequent scumble glazes, use the also revolutionary well-crafted Titanium Gamblin FastMatte White for hard, fast drying white, with maximum, permanent opacity. It is no surprise that Gamblin evolves right along with leading edge art conservation science, to bring artists the best possible, updated, leading edge products. 
If you do not glaze, but paint in one layer, opaquely, choose Burnt Sienna. It would be the best choice of brown for you, with the most compatible drying times with your other oil colours, and good opacity.