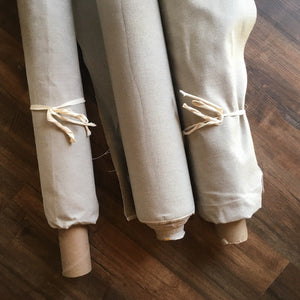 Professional Art Products
Professional Art Libeco Belgian Linens For Canvas-Making
Regular price
$5.00
$0.00
Unit price
per
These linens are the strongest, most durable organic fabric substrates you can find. Our superb Libeco Belgian linen is sold by the square foot, so that you can custom order your linen to fit your support without having to buy wastage. 
Available now - three grades to choose from for for any painting practice! These linens are available in fine (portrait) weight, medium-weight, and heavy-weight. All three Belgian linens are tightly woven, selected for their optimal benefits of strength and durability for your painting substrate.
It is best to buy raw fabrics for your canvas-making for two reasons:
1) This way, you can ensure that your fabric is sized, because you have done it yourself. Sizing prevents rotting from oils that penetrate. Sizing prevents SID from forming on your acrylic paintings. Sizing is usually not done by manufacturers of "pre-gessoed" fabrics, so these products need to be avoided.
2) You can stretch or mount your fabric before the ground is applied. This is the best practice, because fabrics that have ground ("gesso") on them already actually are likely to form microscopic, undetectable fissures along the bend when the fabric is stretched. These fissures can allow leaching of oil into your fabric and thus can make way for rotting. Although this is not an issue for acrylics, sizing is. Therefore, always buy raw fabric for canvas-making.
Linens are arguably stronger that canvas and will definitely stand the tests of time for you. I will also be carrying an extremely high grade of heavy weight densely woven canvas that will also stand the test, if I can get it for you. Look forward to that soon too. Most canvas however, is not strong enough to ensure the long life of your work, so I will not be carrying lighter weights and looser density canvas fabrics.  
Please email me before you order to discuss the dimensions of your pre-cut pieces. kmb@professionalart.ca. Note that I also can offer you workshops in canvas-making. Check this out here: Canvas-Building, The New Technology