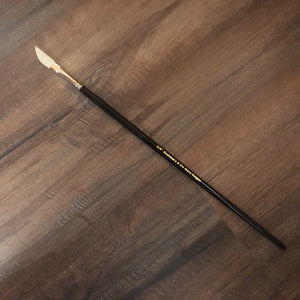 Rosemary & Co Brushes
Rosemary & Co Brushes - Ivory Series Dagger 3/8"
Regular price
$22.50
$0.00
Unit price
per
Ivories are the legendary brushes that Rosemary is most famous for. They are made from a form of synthetic hog this makes a superb workhorse brush, with excellent spring, strength, nimble edge and incredible resistance to wear and tear.
This Dagger 3/8" is just an amazing brush -  It is the perfect strength to be able to nimbly drop oil paint in shockingly diverse ways with the turn of a wrist. It was brilliant for painting flicks and sparkles on water. It paints a razor sharp short line and dabs the tiniest dot and does things words can't really describe as well - perfect for random light patterns. I decided to carry this unique brush as soon as I tried it. I just loved it.