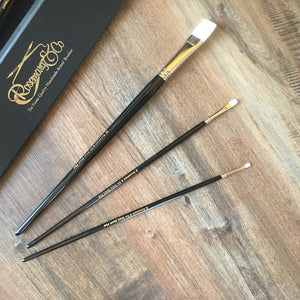 Rosemary & Co
Rosemary & Co Brushes - Ivory Series Short Flats
Regular price
$11.00
$0.00
Unit price
per
Here's that opportunity to buy the world's most loved brushes - Rosemary & Co makes fantastic brushes! Your best artwork is made with the best tools!
Ivory Series brushes are the legendary brushes that Rosemary is most famous for. And of the Ivories, the Short Flats are the most useful, serving as your strongest. They  come to a razor sharp end, that when turned sideways can create the finest, most precise and consistent short line. These multi-purpose brushes are strong enough for micro-glazes and scumbles too. For broad application glazes and scumbles choose natural hog brights which are not at all as precise, but are stronger and better for the task.
Wonderful upgrade!
I knew good brushes make a difference in the work, but I didn't understand how much until I got to try these! They are perfect for the type of work I do and allows me so much more control than anything I've tried before.
Plus, it was amazing having Kathy's advice best practices for upkeep so hopefully they will last a long time.
Rosemary flat brushes
Excellent product! I was so glad to see that Kathy sold Rosemary brushes! And the product is better because Kathy takes the time to learn what works best with all her brushes. Then she is able to sell appropriately because of her own experiences.
Great brushes!!!!
These are just the best brushes! Can believe what a difference a better quality brush makes in my painting. I had previously tried several different brand but these beat them all hands down. Having Kathy's advice on what to buy has been invaluable.
Short flats
These brushes allow me to have control on all my finishing touches.