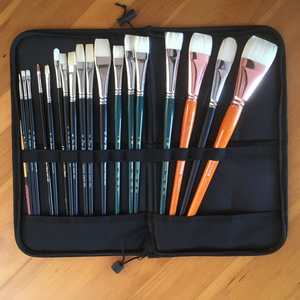 Professional Art Products
Professional Art Large Scale Brush Set
Regular price
$318.50
Sale price
$331.00
Unit price
per
You like to go big or go home! And this incredible set of brushes is custom curated with exactly you in mind. When you need power to push the paint, you will reach for the best hog-bristle brights to be found. They effortlessly move large or small amounts paint uniformly right across your whole substrate. Featured are Princeton Ashley Series and the huge sizes are Princeton Refine Series (and they are big enough, even for you!). You will absolutely treasure these super-durable workhorse brushes. There is a full arsenal of brushes for the fine strokes too. Featured is a perfect array of white synthetic hog brushes. These are the incredibly well crafted, super-durable Rosemary Ivory and Creative Mark Powercryl brushes. If you have never tried a synthetic hog, you can look forward to the shocking delight. They are almost as strong as a hog but are as sharp as a razor. The workhorse of this group is also a bright. For organic line, nothing beats these filberts. For nooks, crannies and long flat strokes and long sharp lines, nothing beats a flat. After all that, if you need to dot an i, we have a brush for that too. This set is complete, and it is perfect for your large paintings. Note that it will serve you very well for medium to small works too.
I am a painting Chef!
Just like Chefs who carry their custom knives around with them, every serious artists needs a great quality brush set. I feel this purchase is a "must have" for the serious artist. I am very pleased to have this set in my possession and feel it is a good investment after all the years and money spent on brushes that just don't work out. Two thumbs up! Good customer service too!