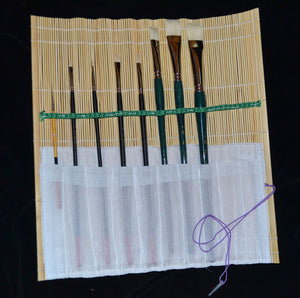 Professional Art Products
Professional Art Essential Oil Brush Set
Regular price
$99.00
$0.00
Unit price
per
Going to try oil painting or going to be working plein air? This set of brushes are all those that are most essential for this medium (these brushes are also good for Acrylics). They are the highest quality brushes you can buy and will get you there through every function a brush needs to perform. When you come to love the oil painting experience, you can expand this workhorse set with a broader variety. This set has:
three powerful, perfectly crafted Princeton Ashley Brights - a  #8, #10 and #12 for broad applications of small or large quantities of paint
four powerful and razor-sharp stiff synthetic hog Rosemary Ivory Short Flats  2x#4, 1x #2 and1x #1 for nuanced medium and fine detail.
plus, a bonus roll-up Professional Art bamboo case
Excellent brushes
When I started oil glazing I wanted a new set from which I could expand as my requirements grew. This one is excellent and gave me everything I needed. a very good buy.