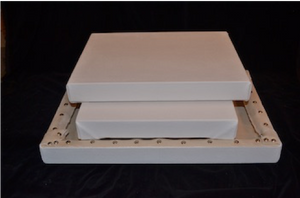 Professional Art Products
Professional Art Archival Canvases, with Libeco Belgian Linen
Regular price
$120.00
$0.00
Unit price
per
Here is a product that I have developed in close consultation with art conservation scientists. Professional Art Archival Canvases are the of the highest museum grade. These are not like other canvases on the market; they able to carry your artwork, fully supported and without high risk of damage into the centuries ahead. They also make artwork SO much easier to handle while you work with them in your studio or exhibition space!
 Professional Art Archival Canvases are readily available in all sizes, and in bulk orders, can be made to nest with each other for compact shipping to and from exhibitions.
 Available Fabrics:
Linen canvases are available in fine grade, medium grade and heavy grade tightly woven Libeco Belgian Linen.
 Available Grounds:
Canvases are available with Golden Acrylic Dispersion Gesso Ground or Gamblin Oil Ground. Other Golden Grounds could also be used.
Professional Art Archival Canvases usually need to be ordered before being built. Please contact me, Kathy, at 902-962-3642 to discuss your needs and to get a quote for your order. I look forward to working with you on your upcoming projects.